Hours, Tours, Fees & Parking
Park Grounds
The grounds at Boothe Memorial Park & Museum are open to the public, from sunup to sundown, 365 days of the year. Leashed dogs are welcome.
Museum Tours
The museum buildings are open for tours, on a seasonal basis, from Memorial Day to Labor Day, as follows: The Friends of Boothe volunteer docents provide guided tours of the Boothe Homestead on Tuesdays and Fridays, from 10:00 am to 12:30 pm, and on Sundays, from 1:00 to 4:00 pm (last tour starts at 3:30 pm). Self-guided tours through several other Museum buildings and displays are available on these days/times, as well.
Visitor Center
Visitors are encouraged to start their visit in the Visitor Center, where they are able to watch a 15-minute video about the Boothe family and their legacy to the Town of Stratford.
Fees
None! There is never a fee to visit Boothe Memorial Park & Museum, as the Boothe brothers would never have stood for that!
Parking
And parking is never an issue. The Main Entrance leads to a large visitor parking lot, where you will find a Map with key to the Park buildings.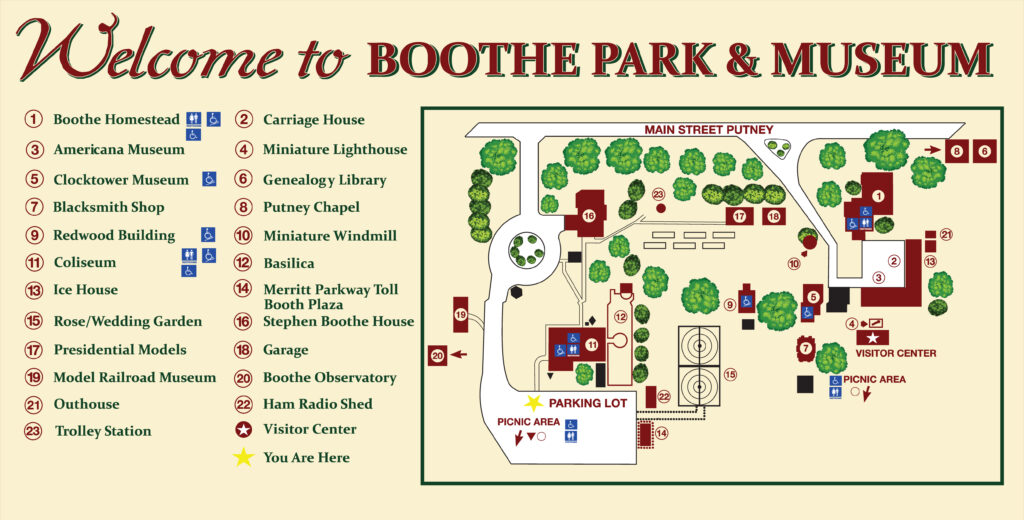 Stroll through our exquisite Rose Garden, picnic on the beautiful grounds and entertain the kids at the children's playground that is also available at the Park.